Remember this?




Well. Apparently the big bold title of "Clementine Ford Comes Out" is one big misquote.

In an interview with TV Guide Ford claims the reporter misquoted her and that she did not come out.

TV Guide Quote:

Q: Let's discuss this Diva magazine cover story. You sorta kinda maybe came out as a lesbian. Um, right?
A: [Groaning] I'm sooo glad you asked. The first thing that really upset me was that the cover line said "Clementine Ford Comes Out" which, clearly if you read the article, I did not come out. It was really misleading and full of misquotes to sell the magazine. If someone's buying it to see that I came out, well, get your money back.

I'm sorry. What? Let's review what was said in the Diva Magazine article:

"I never want to put a label on myself — but knowing that not everyone comes from such a liberal place, when something like Prop. 8 [banning gay marriage in California] comes out, you realize it's important to stand up and be counted. A little gay kid in a small town is more important than whether I want a label."

I know it doesn't say "I LOVE PUSSY" anywhere in that quote, but the tone and the way it was presented, to me, says that this is Ford coming out publicly. But if you're really interested you can read the whole article here. (Thanks uhhuhherfan.com & Ms. Snarker & the lovely Ms. Bendix from Afterellen.com and Girlfriend is a homo [.com])

Also, if you've seen Ford on Liz Feldman's This Just Out, you see another moment of misquotation. Ford jokes that yes, the L Word is porn. The ladies are actually banging. Which of course is false, even though I think we all wish it wasn't. The misquote occurs when the Diva Magazine article goes on to discuss the rumored relationship between Shane and Ford. Except, it's called sarcasm. And like, people you know, kind of use it to like, make jokes.

I think this is just a case of British humor and American humor clashing. Diva Magazine is Europe's mainstream lesbian magazine. The UK's answer to Bitch, if you will. This instance only proves that I am obviously not the only American who did not think Bridget Jones' Diary was that funny.

Or maybe it's just bad reporting.

But on a more serious note:

This is an unfortunate situation that the gay community does not need to see happen. Ford is obviously an avid supporter of the community. That is undeniable. But it this kind of flip-flopping, sketchy sexuality that allows people to perpetuate the rumors that the gay community is not a lasting, permanent fixture. That homosexuality is a choice. It is not. It is a journey and it is unfortunate that Clementine Ford has to make hers a public one. This is also the kind of thing that de-legitimizes bisexuality. So be bisexual, Clementine. Go for it. Just don't do it Katy Perry style.

Coming out so publicly and then rescinding that outing is a self-preservation act on the part of Ford. I think it is admirable to attempt a career without your sexuality preceding you, as she already has the challenge of defying the fact that Phyllis, I mean Sybill Shepard, is her mother. So I understand some reasons as to why she would deny the insinuations in the Diva article, but I feel like her recovery of the situation could have been handled better, without what I feel like is a tone of ashamed assumption.

Writing an angry letter? Really? That's some strong wording that only makes Ford seem disgusted at the fact that a publication would take her sexuality and run with it in such a positive way. She is the one making her pending lesbianism negative. Maybe I'm also just making assumptions. I understand no one wants their sexual journey broadcasted like that, but don't deny it so rudely. Unfortunate downgrade.


Fuck it. EYE CANDY!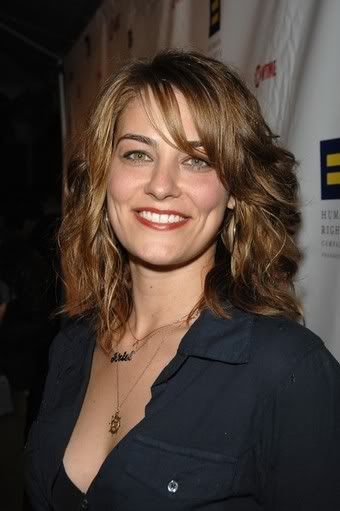 P.S. Katie D's computer bit the dust hard, so you're stuck with just me for a while. Hopefully I can cover everything. Or at least the things that come across my radar... I do accept tips. Just FYI. It gets hard trying to find this shit all on your own.